Support the Charity Tax Group (CTG) in 2018
CTG is the only organisation working exclusively on charity tax issues and the financial support of our members is crucial. Please consider making a contribution to our work in 2018.
Members will be sent a donation form by post in early January 2018, but you can also make a donation by completing this donation form online. If you are not currently a member of CTG you can register here.
Thank you for your support!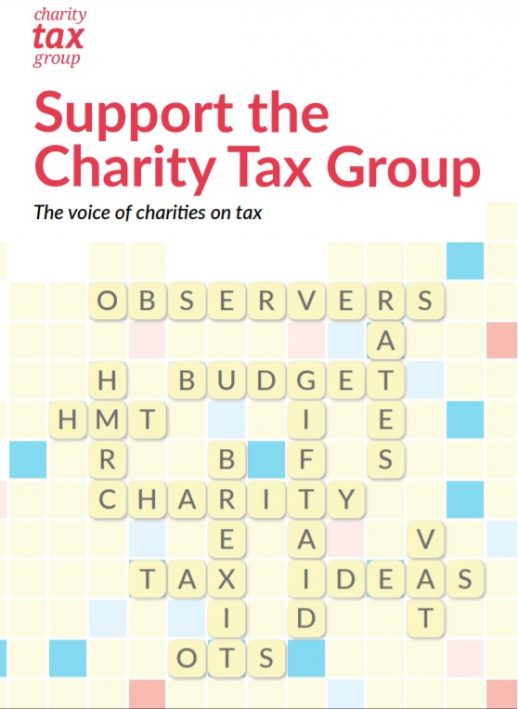 A significant part of our work in the coming year will be about ensuring that charity tax – whether the claiming Gift Aid, the structure of a new VAT system, or tax reporting mechanisms – is fit for the future, particularly within the context of the UK's forthcoming exit from the EU.
In 2018, CTG will continue to support members by
Sending you our regular newsletters, which outline legislative, policy and case law developments, provide expert commentaries and offer details of consultations
Representing the interests of your charity on HMRC's Charity Tax Forum and in its technical sub-groups, as well as with Treasury Ministers and the Office of Tax Simplification
Providing you with free access to the online Charity Tax Map, the most comprehensive and up-to-date tool for helping you navigate the charity tax landscape
Offering you access to CTG's Charity Tax Helpline, to ensure you are directed to the correct guidance to tackle your specific tax issue
Investigating technical and practical charity tax issues that you raise and, where relevant, highlighting these issues in discussions with HMRC and HM Treasury
Inviting you to participate in events including our Annual Conference (to be held this year on 15 May), topical seminars and regional meetings, as well as in technical and practical working groups on a variety of topics.
You can read the full Support the Charity Tax Group 2018 leaflet here