Support the Charity Tax Group (CTG) in 2020
The Charity Tax Group (CTG) is the only organisation working exclusively on charity tax issues and plays a crucial role in representing the interest of charities to key decision makers in Government. You can read more about our wide range of work on behalf of the sector, in 2019, here.
We need your help again so that we can continue to get the best deal possible for charities on tax. Without that support and the help of other member charities that simply will not happen. Donations and subscriptions from professional firms are our only source of income.
If you are not currently a member of CTG you can register here to gain full access to the website and our regular newsletters.
Thank you for your support!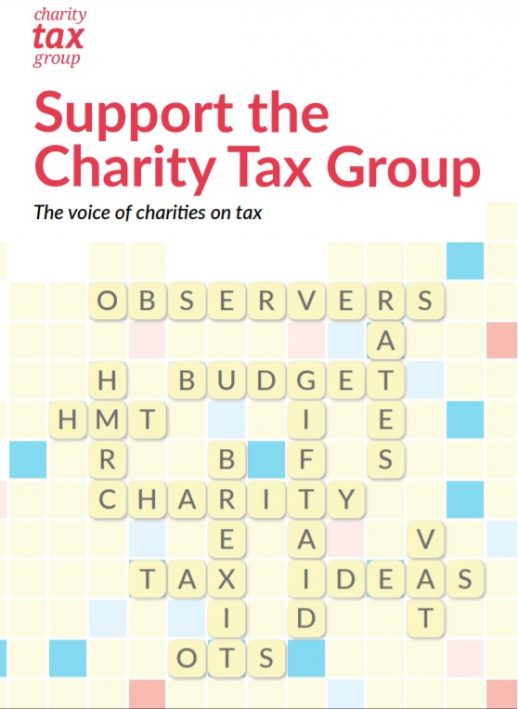 2020 will be the most critical year for the future of UK charities and charity taxes. Our current VAT system will change after Brexit either because the UK is free to create its own rules or more likely as a result of trade terms still to be agreed with the EU. The UK's unique VAT reliefs, some of which are specifically targeted at charities, were agreed during negotiations when we joined the EU (derogations) and could well be lost if any trade deal negotiated over the next few months requires close alignment with EU rules – special concessions to the UK are unlikely to be the EU's top priority. Furthermore, the loss of EU funding and the redistribution for social causes of monies otherwise paid to the EU will be a major challenge. It is imperative that the charity sector is able to fight its corner to enable charities to flourish. CTG has launched a detailed research project to quantify the value of charity VAT reliefs and their socio/economic contribution to the UK – something that has never been done before – and we encourage all members to take part in this important survey.
In addition, we will continue building on our work in 2019 by
Working to unlock the millions of pounds of Gift Aid that cannot yet be claimed though Facebook Donate
Leading a legal challenge to the VAT treatment of online advertising – which is costing the charity sector tens of millions of pounds
Helping charities to prepare for the next phase of Making Tax Digital and IR35/off-payroll working
Leading work on the future of Gift Aid to maximise Gift Aid returns from contactless gifts and unlock the potential Gift Aid from new payment technologies
Working to protect charity business rates relief – the most valuable tax relief for charities worth £x per annum
Calling for the extension of the VAT zero rate for e-publications.
In 2020, CTG will provide technical support to members by:
Providing expert tax guidance on the CTG website
Investigating the charity tax issues that you raise and resolving them with HMRC and HM Treasury
Lobbying HMRC and HM Treasury on priority charity tax issues
Sending you our regular newsletters outlining tax developments and providing expert commentaries
Inviting you to events including our Annual Conference (20 May 2020), topical seminars, as well as technical and practical working groups on issues including Gift Aid.