The Future of Gift Aid project
The Future of Gift Aid is a cross-sector project, led by CTG, that advocates a move towards an automated Gift Aid system, which would help to unlock more than £500m of Gift Aid for UK charities each year.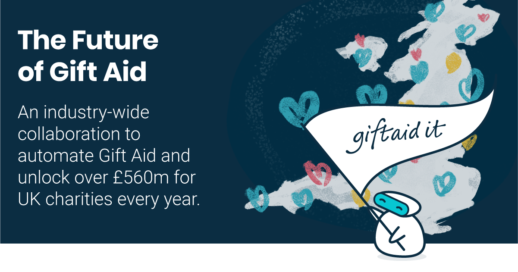 The solution is set to operate within the current Gift Aid policy whilst increasing the amount of funding that reaches charities. Moving toward an automated Gift Aid system, it will help reduce what goes unclaimed, reduce the £180 million claimed in error, and help over 126,000 charities that currently do not benefit from Gift Aid finally take advantage of the valuable tax relief. The project seeks to achieve four main objectives:
Demonstrate the ability for HMRC to use an individual's tax status to determine if a declaration is valid.
Demonstrate integrations to aid donor acquisition.
Demonstrate automated Gift Aid across a number of different donation methods.
A report that captures the work done, providing suggested revisions to Gift Aid policy.
CTG established a working group to review the future of Gift Aid, from both a practical and strategic perspective, and published a paper on the issue as requested by HMRC.
An article on the scope of the project can be read here and you can also listen to this podcast.
"The power of people coming together sharing individual expertise is something quite incredible." Richard Bray – Charity Tax Group, Chair
Workstreams
The collaborative project is broken down into 6 workstreams with involvement of key stakeholders from the charity and finance industries, academia and government. CTG is grateful to Streeva/Swiftaid for taking the technical lead in the project.
1. HMRC: To demonstrate an API integration with HMRC to determine the tax status of an individual to endorse Gift Aid declarations they create.
2. SMS: To demonstrate an automated solution for text donations that meets HMRC requirements, with the aim to support both retrospective and ongoing Gift Aid claims.
3. Retail: To identify methods of attributing Gift Aid within retail giving.
4. Policy/Commercial: To capture and address any compliance/commercial issues, focused on keeping a clean separation between technical feasibility.
5. User: Focusing on the user experience to understand why Gift Aid is missed and what can be done to ensure Gift Aid is applied where possible.
6. Banking: Focusing on identifying the best use cases in which someone's bank account can be used to automate/simplify the Gift Aid process.
Project partners
Please contact [email protected] to find out more.
Get email updates on The Future of Gift Aid project
Latest on The Future of Gift Aid project
All
Tax updates
Commentary
Consultations
Press releases
All
No content has been posted here yet.
Tax updates
No content has been posted here yet.
Commentary
No content has been posted here yet.
Consultations
No content has been posted here yet.
Press releases
No content has been posted here yet.